Expanding Educational Horizons: SMS at the 2023 International Principals Forum in China
After the resounding success of the SMS Summer Chinese Education Programme, we are thrilled to announce a prestigious invitation from Suman Education International and their Chinese partner, JESIE. SMS has been invited to participate in the 2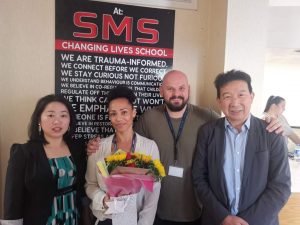 023 International Principals Forum, hosted by the Jiangsu Provincial Department of Education (JPDE) and Jiangsu Education Services for International Exchange (J
ESIE), set to take place in Xuzhou, Jiangsu Province, China, this November.
This esteemed opportunity will see our Proprietor, Jonathan Davies, and our Head Teacher, Hecabe DuFraisse, embarking on a journey to Xuzhou, Jiangsu Province, where they will attend the conference. The event serves a crucial purpose in the realm of education: to foster the exchange of ideas and best practices among
educational leaders worldwide, ultimately strengthening our school's global partnerships.
The forum promises a rich tapestry of experiences, from insightful discussions to immersive visits to local schools. It offers a unique platform for educational leaders from diverse cultural backgrounds and countries to come together, share their expertise, and learn from one another.
At SMS, we recognize the immense value of cross-cultural educational collaboration. Such initiatives not only enrich our understanding of global education but also allow us to bring innovative approaches and insights back to our own school community. We believe that this event will further empower us to provide a more comprehensive and dynamic educational experience for our students.
As we prepare for this exciting journey to the 2023 International Principals Forum in Xuzhou, we look forward to representing SMS and continuing our commitment to excellence in education on the international stage. Stay tuned for updates as we embark on this educational adventure, and join us in celebrating the boundless possibilities that await us in China this November.